At The Tea Store, we pride ourselves in offering you the finest quality teas in the world! As self described "tea addicts", we are thrilled that our passion for exceptional teas has evolved to become a small family endeavor. We look forward to sharing our joy of tea with you!
WHAT OUR TEA CONNOISSEURS ARE SAYING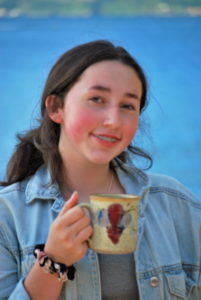 Vanilla Rooibos is my favorite tea – day & night!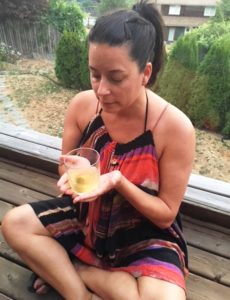 Enjoying my daily cup of Shogun (Lemon) green tea. It is serenity in a cup!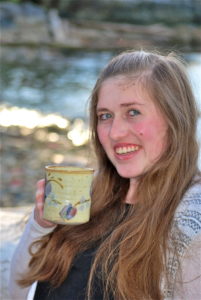 Irish Breakfast is my favorite morning tea!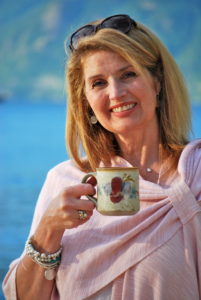 Bourbon Vanilla has been my favorite tea for over 20 years!
WANT TO BE SEEN ONLINE? SEND US A PICTURE & COMMENT OF YOU ENJOYING YOUR FAVORITE TEA!
Subscribe to our quarterly updates on new tea arrivals, recipes, and upcoming events…
The Fall season is the perfect time for tea!
Fellow Tea enthusiasts, Sandra H & Debbie P, couldn't stop themselves from taking some great tea shots set amongst the seasonal fall foliage of the Comox Valley. These images capture the beauty of the fall season and the warmth we all feel when enjoying a great cup of tea!
CUSTOMERS, FRIENDS, & FAMILY GATHER FOR TEA & DESSERTS…
Guests enjoyed celebrations with Ronnefeldt fine teas…
Tracy, Bart, Madeleine, & Isabelle hosted guests for an afternoon of tea tastings and desserts at Chez Michel – a culinary favorite in West Vancouver on Sunday October 14th to celebrate the re-launch of The Tea Store. Since assuming business ownership in late June there has been a flurry of activities and this event enabled the opportunity to connect with customers, friends, and family and share many great teas.
Guests were able to sample 14 different Ronnefeldt teas including Darjeeling Summer Gold, Assam Bari, English Breakfast St James, Tippy Golden Earl Grey, Strawberry Fields, Morgentau, Jasmine, Japan Cherry, Rooibos Zitrone, Rooibos Feel Relaxed, and of course our much beloved Bourbon Vanilla. Thanks to everyone who made the effort to join us and help celebrate our new venture!
FREQUENTLY ASKED QUESTIONS?
Q: Why are the teas priced in US currency?
A: The majority of online shoppers reside in the United States. For our Canadian customers the final sell tea price will be converted into Canadian dollars once you complete your credit card / PayPal transaction.
Q: How is your tea price established? 
A: On our site the tea is sold in 100 gram units. The price for each tea variety is initially set by the tea producer (i.e.: Ronnefeldt) who updates their wholesale tea prices annually based upon the quality, availability, and any regional climate concerns (i.e.: Drought – South Africa). We are constantly looking for every opportunity to provide you with the highest quality tea at the best possible price.
Q: Can I get a bulk order discount?
A: Yes! Online orders of 500 grams for the same tea variety will receive an additional 10% of the same team variety (550 grams). For bulk orders that are phoned / emailed to us we can apply a 10% price discount, on any tea orders of 500 grams for one tea variety.
Q: What is included in the shipping fee?
A: Every order that is delivered through the postal service includes both expedited delivery and a tracking fee. These additional costs are necessary to ensure you receive the teas that you ordered and that we can track each delivery.
Q: If I live in the Vancouver area must I pay for the shipping fee?
A: For customers living in the lower mainland you can select a local pick/drop off option when paying for your online order; We have multiple tea pick up locations throughout the lower mainland. We can also provide home delivery to customers residing in North & West Vancouver.